I live in Singapore, and I have realized earlier that I have interests that cannot be simply fulfilled by going to the store. Because things that are sold here are so limited in terms of variety! I love tea and drinking from pretty tea sets makes me happy.
Gorgeous, isn't it? I think this is Royal Albert. It's one of my favourite tea china brands.
I also like Gracie China and Pip Studio. I just spent almost SGD250 on a Pip Studio tea set of four tea cups and saucers, a large teapot, and a sugar and creamer set, like two weeks ago. Stashed it at my dad's house because I'm planning to collect a few sets to use at Jemaine's Alice in Wonderland Bachelorette Tea Party, and there's just no room over at Kumar's. They sell it over at Tangs in Vivocity. Who would've thunk it? Pip Studio is all the way from Amsterdam!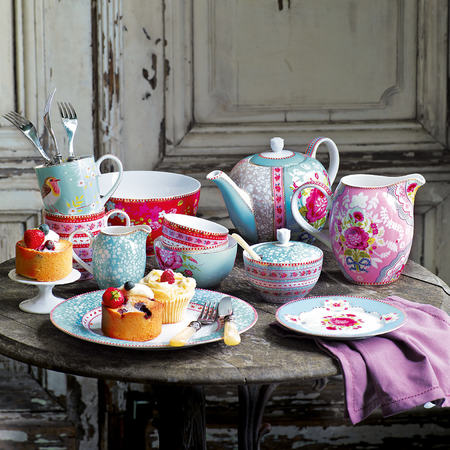 So, over the weekend, I bought more from Amazon! (I have no self-control...)
Gracie China sets are really pretty and shabby chic. Also, I've realized that I prefer what I call 'modern vintage' to true vintage now. It depends of course, but between Royal Albert's Old Country Roses and New Country Roses, I prefer the new one! Pastel colours and floral prints make me happy!
I realize the last teacup set doesn't match the shabby chic set (it's more of vintage) but I thought it'd be nice to have a coupla vintage sets in my growing collection!
I also bought the famous '1 cup of perfect tea' spoon that is supposed to measure out a cup of perfectly-proportioned tea for Jemaine and I! It's mostly for loose black tea leaves, fluffier tea leaves may not measure out so well with it.
Lastly, I bought two tea-for-one sets from Pavilion for Jemaine and I again! She's the only one I know who is as fanatical about tea as me. But it's adorable, isn't it? I don't know if I want to wait five months to give it to her on her birthday! The red one is for her and the blue one is for me! Her tag looks much more appropriate... Anyway, this is part of the mod vintage style I mentioned. It usually includes, like, polka dots, vibrant colours, and digital-looking florals.